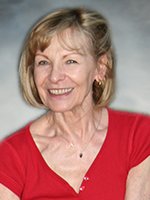 Sylvia Shirley BROOKWELL
BROOKWELL, Sylvia Shirley. Passed away on Tuesday, May 8, 2018 in Calgary at the age of 76 years. Daughter of Stella Tretiak and Stanley Wionzek. Predeceased by Elbert, her son Allen, grandson Michael, and sister Florence. Survived by her children Ann (Rick), Penny (Ian), Dean (Janine); her grandchildren Jennifer, Ryan (Clare), and Marci (Samantha); her great-grandchildren Markus, Katie, Graesen, and Wren; and by her siblings Caroline, Ollie, Dolores, and Edward.
Special thanks to the staff of Southwood Hospice for the excellent care they provided in the past couple of months.
Funeral Services will be held at CALGARY CREMATORIUM CHAPEL, 3219 – 4th Street N.W., (within the valley of Queen's Park Cemetery) on Friday, May 18, 2018 at 10:00 a.m. Reception to follow at the funeral home. Please forward condolences through www.calgarycrematorium.com