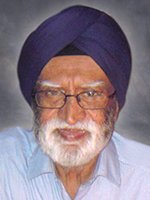 Sadhu Singh GILL
Sadhu Singh Gill of Calgary, AB, passed away on Monday, November 20, 2017 at the age of 78 years.
Sadhu is survived by Son Sukhjinder Gill; daughters and sons-in-laws Rani Gill and Greg Taylor, Bubbly and Guneet Bajwa, Sunita and Bharat Ranganathan; grandchildren Dezai Gill-Temple, Kavita Gill-Temple, Saihaj Bajwa, Sanjana Bajwa, Surya Ranganatha and Ajay Ranganathan; nephews Reetu, Chicu and Bunny Singh Gill; as well as brothers Iqbal and Balwant Singh Gill.
Funeral Services will be held at CALGARY CREMATORIUM CHAPEL, 3219 – 4th Street N.W., (within the valley of Queen's Park Cemetery) on Friday, November 24, 2017 at 2:00 p.m.